ABS Town Planning Pty Ltd
Town Planning and Urban Design
About us
At ABS Town Planning Pty Ltd we pride ourselves on providing you with specialist town planning advice and experience to help you achieve your goals.
Established in 2012 ABS Town Planning Pty Ltd has extensive experience across Queensland. Our passion for innovation and the projects we are a part of, gives us the drive to bring our best to our clients at every opportunity.
We understand that in today's competitive society people need two things, QUALITY and VALUE. We deliver both by streamlining our systems, knowing our clients and the local council regulations. We know our experience and passion will deliver your projects better.
Town planning is about more than development applications, it's about finding the best solutions within the requirements and brief to achieve tangible outcomes.
Our approach
Our approach to planning and design is about people and place, it's about beautiful simplicity. When we create places that are robust, legible, and delightful, we change the way people view the world.
Every place has a story, rhythm, and purpose. Every project and decision is part of a narrative that new development can build upon. We consider the history of the site and the surrounding area and seek to understand how it has developed and why. Existing projects and places can be used to find solutions that has already worked for sites with similar design issues.
We have a high value commitment to working with collaborative project teams to find clear solutions within the project scope while managing the clients' expectations.
We are always striving to do planning and development better by providing the right information at the right time, so that clients can make informed decisions. We do this by adding value to our clients, our workflow, and the businesses we work with.
Our services
Town planning and urban design;
Site investigations and pre-lodgement meetings;
Development applications including RiskSmart;
Development advice to assist with due-diligence; and
Proposed plans of development and proposed plans of subdivision.
Recent projects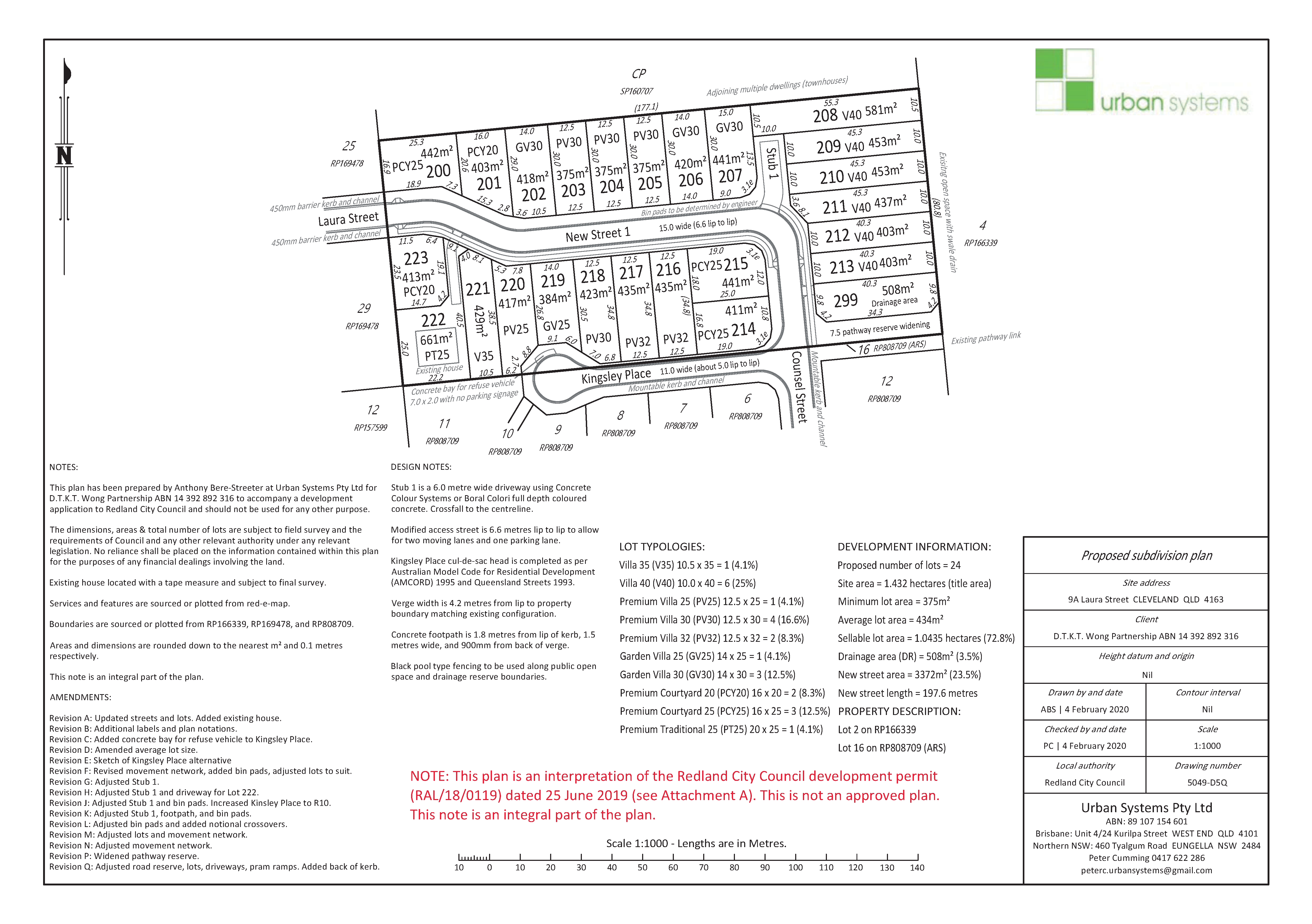 Laura Street CLEVELAND
Working with Urban Systems Pty Ltd, we prepared a proposed subdivision plan and development application for a subdivision of land creating 24 residential standard format lots in Laura Street CLEVELAND. The development integrates with the surrounding neighbourhood and completed a vital link for walking and riding.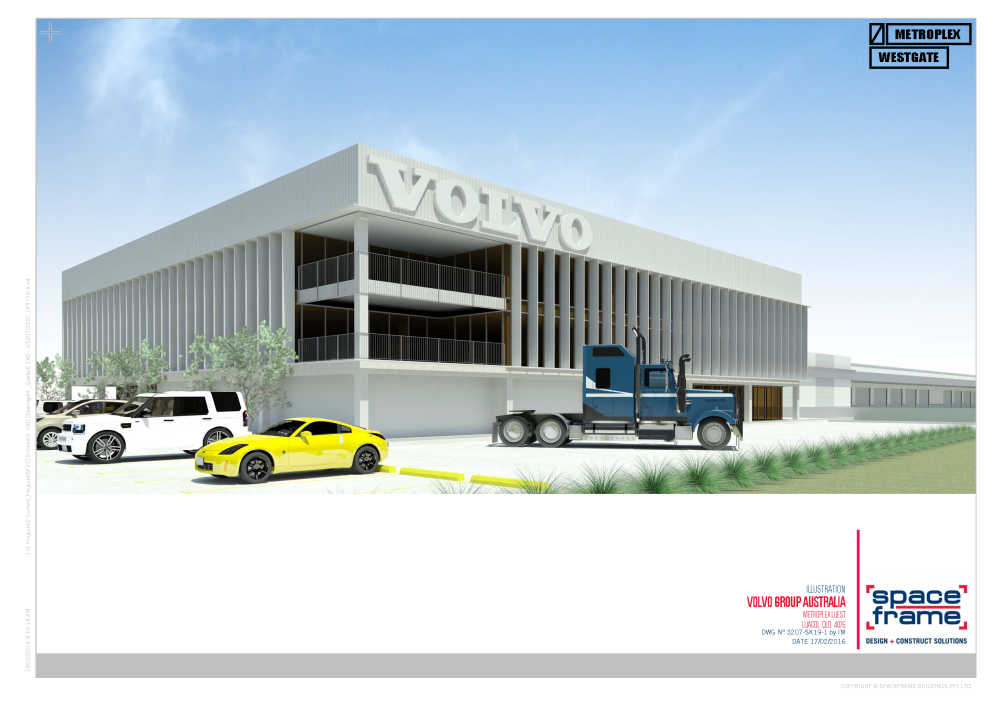 Volvo Truck and Bus Headquarters
Working with Urban Systems Pty Ltd, we prepared a development application for the new Volvo Truck and Bus Headquarters at the Metroplex Westgate industrial estate at WACOL. The development application involved multiple uses including offices, a food and drink outlet, showrooms, workshops, and a warehouse.
Testimonials
"I recently built a house on a large block of land in a new estate in South East Queensland. I made enquiries as to the possibility of subdividing the block and was told by three different people (builder, developer and local real estate agent) that there was no way I would get a subdivision. I contacted Anthony from ABS Town Planning and, long story short, 6 weeks later, I had an approval for the subdivision. I am a big believer in 'leaving it to the experts' and Anthony came through with the results."
"Awesome to work with you Anthony. You have been very professional and helpful throughout the process of subdivision of my block in Collingwood Park. Love to work with you in future."
"I am so impressed with the way you have handled the subdivision of my property, especially overcoming the difficult objections put forward in the development process."
Contact us
We would love to discuss how we could contribute to the further success of your projects.
ABS Town Planning Pty Ltd
PO Box 787
NEW FARM QLD 4005 (Australia)
ABN: 54 160 836 475
Phone:
1300 663 880
Facebook
LinkedIn
Privacy policy
What information do we collect?
We collect information from you when you fill out an enquiry on our website.

What do we use your information for?
Any information we collect from you is used to personalise your experience, to improve our website, and to improve customer service.

How do we protect your information?
We protect your information through a variety of security measures to maintain the safety of your personal information.

Do we use cookies?
We do not use cookies.

Do we disclose any information to outside parties?
We do not sell, trade, or otherwise transfer to outside parties your personal information. This does not include trusted third parties who assist us in operating our website, conducting our business, or servicing you, so long as these parties agree to keep this information confidential. We may also release your information to comply with the law, enforce our site policies, or protect ours or other rights, property, or safety.

Third party links
Occasionally, at our discretion, we may include links to third party products or services on our website. These third party sites have separate and independent privacy policies.We therefore have no responsibility or liability for the content and activities of these linked sites. Nonetheless, we seek to protect the integrity of our site and welcome any feedback about these sites.

Online privacy policy only
This online privacy policy only applies to information collected through our website and not to information collected offline.

Your consent
By using our site, you consent to our privacy policy.

Changes to our privacy policy
If we decide to change our privacy policy we will post changes on our website.

This privacy policy was last modified 4 January 2017.

Contacting us
If you have any questions regarding our privacy policy you may contact us using the information below.
ABS Town Planning Pty Ltd
PO Box 787
NEW FARM QLD 4005 (Australia)
ABN: 54 160 836 475
Phone:
1300 663 880
Facebook
LinkedIn
Copyright 2021
ABS Town Planning Pty Ltd
Last updated: 3 October 2021